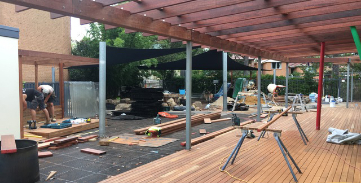 It has been a huge year of renovation at Billy Kids Lilyfield.
With the help of a brilliant interior designer, Jodie Holmes, and many dedicated trades people working every weekend so as not to disrupt our children, we are nearly there. The evolution of our centre to a warmer more homelike environment has included the following work :
removing old ceiling tiles to be replaced with residential ceiling panels
installing activity room lighting that is dimmable
farmhouse doors and custom family trees for every activity room repainting throughout the centre
upgrade of furniture, rugs, accessories and educational resources
putting up new farmhouse pictures
custom units made locally with wicker baskets for children's belongings
complete playground makeovers which include new landscaping to create a number of zones for more engaging activities for the children such as mud kitchens, soft turf mounds with inlaid slippery dips, water pumps and sandpits
the children's old melamine work tables being replaced with farmhouse tables using traditional legs with tops from recycled timber floorboards reclaimed from an old Sydney home.
new herb gardens
new soft, hand-knitted cotton blankets for nap time
transformation from babies cot rooms to bedrooms complete with plantation timber shutters; Leander cots; wool carpet, paint approved by the National Asthma Council Australia's Sensitive Choice Program; 100% organic cotton sheets and super soft crochet blankets.
We have been thrilled with the reaction of our children, Educators and families to the renovation at Lilyfield and thank everyone for their patience and support.